It's Fall… but we are still HOT!
FALL SCHEDULE OF COMING CLASSES
Click on PURPLE text to view class menus.
Dates shown in GREEN still have places available to book.
Classes in RED are now fully booked.
The number of places remaining in a class is in GREEN.
Download Our Free PDF Class Booklet
To view our complete list of classes offered for 2023,  please click on the picture to the right.
Please book early if you want to ensure your place at the table. And, if you can't find a date or public class that works for you, then a private class might suit you better. You can pick exactly the class and date you like, with a start time anywhere from 2:30 p.m. to 6:30 p.m.
To book a class, just call us at 250-656-1227, or send us an email.
The Best Thai Food You Can Learn to Make!



Learn how to make delicious Thai Spring Rolls at Kallayanee's Kitchen, in North Saanich on Vancouver Island, a popular tourist attraction.
Learn from a Thai Cooking Master on Vancouver Island
All classes are held in Kallayanee's own North Saanich home in a comfortable, friendly atmosphere.
Classes and Pricing
For our PUBLIC CLASSES, we charge $65.00 per person, plus GST.
For our PRIVATE CLASSES, we require a minimum charge of $390.00, plus GST, for each class.
That is $65 per person, plus GST, for a six-person class. If you wish to host a class with fewer than six people, our price per person goes up.
For our PREMIUM CLASSES, available for both public and private students, we charge $70.00 per person, plus GST.
To Book Your Class
We are not yet set up for online bookings, so you'll need to book a class either by phone 250-656-1227, or send us an email message. You can download our full class syllabus by clicking here. It includes all of our class dates and the menus we will offer on those dates.
Anyone can learn how to make delicious Thai food!
We host cooking classes in North Saanich, only minutes from Victoria. Join Kallayanee, a native of Thailand, as she guides you through a choice of 21 lessons featuring some of Thailand's most popular dishes at her North Saanich home, near Sidney, and only minutes from Victoria.
You'll learn the Thai way through hands-on experience and careful, step-by-step instruction. And no class is a prerequisite for any other class, so you can take classes in whatever order you like. Each class lasts about three hours. First you learn how to prepare and cook the food — then you get to eat it with other enthusiastic classmates!
Each cooking class is a feast to be enjoyed by all students
For each class, you'll learn how to prepare and cook a feast of authentic Thai dishes, including noodles, curry dishes, spring rolls, seafood soups, spicy salads and much, much more. Afterwards, you get to eat and enjoy the delicious food prepared during class. You will also receive printed recipes and a list of ingredients required — both staples and special ingredients — available at many local grocery stores and Victoria's Chinatown.
No cooking class is a prerequisite for any other
So you can take as many, or as few, classes as you wish! Satisfaction guaranteed!
Vancouver Island Magazine Names Top Cooking Classes
Kallayanee's Kitchen is at the Top of the List

We're Proud of our High Rating!
This review came as something of a surprise to us. We had no idea we were being reviewed and rated. But we were certainly pleased to find that SALT loved us so much! You can check out the Salt website and find our review on page 17.
When Seaside Magazine Came to Visit
Deb's Day Out, with Deborah Rogers
"Eating all the dishes, along with a delicate aromatic jasmine rice with mango for dessert, was both pleasure and pain! It was delightful to sit and share the meal with others…I enjoyed hearing their stories as I tried to squeeze in just a few more mouthfuls. Come to the class with an appetite is my advice. Be prepared to ask questions. Be adventurous as you sample the food. Get out of your rut!"
Deb came to visit us recently for her regular feature column
Our Weekends on the Flavour Trail
Meeting and Greeting Food Fans from Everywhere!
We are proud to have been included in Flavour Trails, a wonderful community event that celebrates food producers and purveyors once every year in North Saanich. Sadly, we were not able to participate in our favourite festival during Summer 2020 or 2021 because of the Covid pandemic.
The summer before, in 2019, dozens of people came to visit us on the Flavour Trail in North Saanich. We even met many of our neighbours who came to call and get to know us a little better. We also met many folks from much farther away — around the country and around the world — who came for a unique experience of this rural island community.
Happily, Flavour Trails opened again in 2022 and, once again, we met dozens of people who came to visit and enjoy the free samples of our food that we offered.
We are definitely looking forward hopefully to meeting more friends, neighbours and visitors when Flavour Trails re-opens for summer 2023!
Our Students Love us Too!
Here's What Some of Them Had to Say
Natural Thai Curry Made from Scratch Class
Excellent teaching and great food — as usual!
Natural Thai Curry Made from Scratch Class
Thank you for adapting recipes to be vegetarian for me! LOVE the marinated tofu! I really enjoy sharing in the cooking with everyone, then sitting and dining and TALKING with everyone. What interesting conversations and people! I always look forward to these classes.
Oriental Beef Salad and Southern Chicken Curry
Such an amazingly fun and tasty evening! I can't wait to make some of these recipes at home. Thank you again.
Thai Classic Favourites
Fantastic! Not only did we get to eat a delicious meal, but we got "hands-on" experience. So we can do it at home — hopefully. Thank you so much. What a great day.
Thai Classic Favourites
What a great experience all around! Food was amazing, great hands-on learning. I can't wait to try the recipes at home. Thank you Kallayanee!!
Private Class: Eric Da Silva Birthday Party
We had such a great time! Thank you so much for a wonderful experience!
WE REWARD HIGH ACHIEVEMENT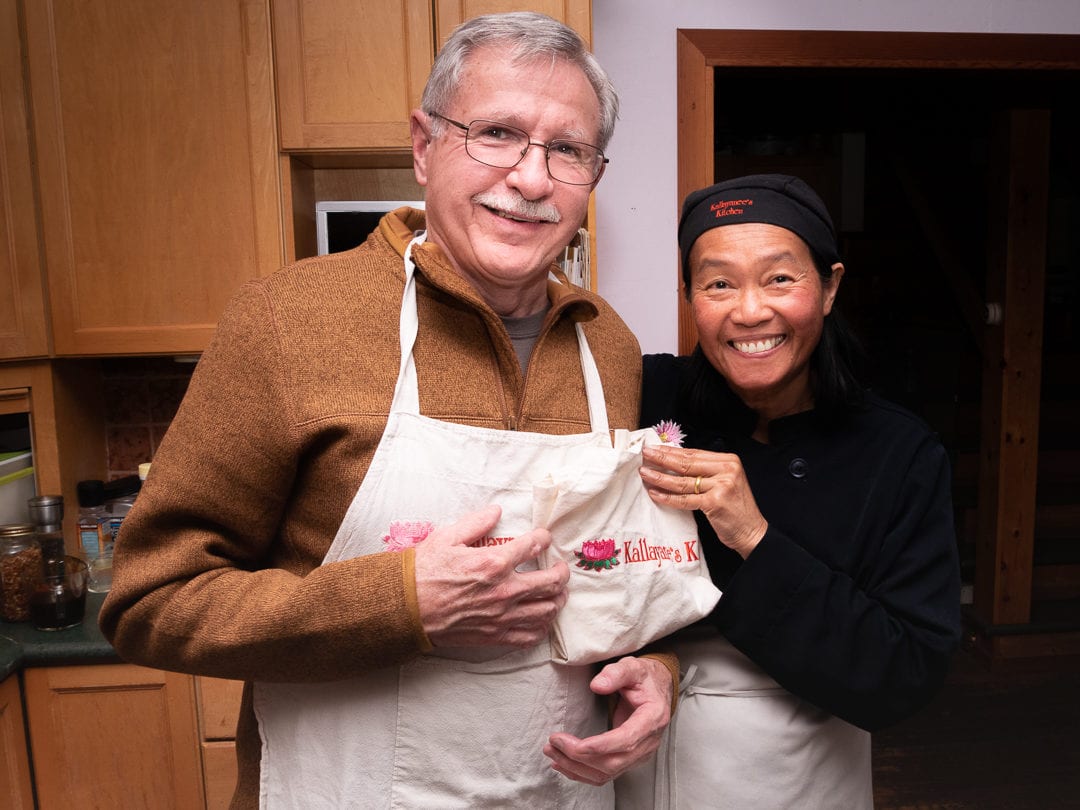 Dani Alldrick recently completed five classes at Kallayanee's Kitchen, qualifying for a hand-made Thai apron. Congratulations, Dani!
Youngest Ever Student Comes to Class
Tyson Youell, at eight months old, is the youngest student who has ever attended Kallayanee's Kitchen. Proud parents Matt and Heather are enthusiastic boosters of their young Foodie.