SENIORS ONLY CLASS: Saturday, July 22, 2023 at 2:30 p.m. in North Saanich
Seniors Only Thai Cooking Class in North Saanich
Learn how to make delicious food and make new friends in a North Saanich heritage home overlooking Saltspring Island
Enjoy a Wonderful Feast of Thai Food
And the Fun of Preparing the Food with Friends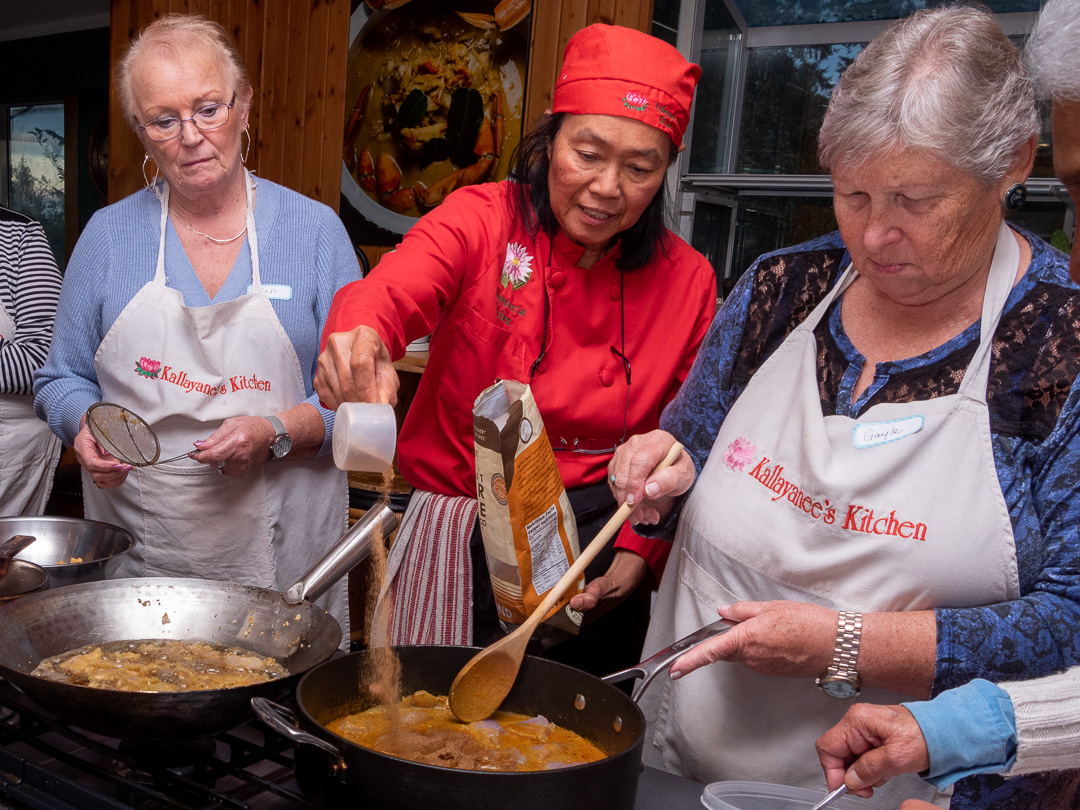 Your Cooking Teacher
I was born in the northeast of Thailand, in a small village without electricity or running water.
Villagers lived much as they always had in this beautiful country and their authentic Thai cooking reflected a long tradition of recipes handed down from generation to generation. I learned from my mother and still cook many of the same dishes.
I have been hosting my classes in North Saanich since 2006, but I regularly travel back to Thailand, where I learn new dishes from some of the best chefs in the country — and from enthusiastic friends!
Once you've taken a class, you will benefit from free cooking support whenever you are trying to cook your new recipes on your own. We are just a fun phone call away at all times!
Hot and Sour Smooth Tiger Prawn Soup
The flavours of lemons and limes gently liven a soup with an evaporated milk base combined with a Thai mixture of spices and herbs.
Thai Salad Rolls
Thai salad rolls are a delicious, healthy appetizer that are easy to make and prepare ahead of time. The key to these rolls is the correct preparation of rice paper, which we shall demonstrate.
Royal Crimson Chicken
Tender chicken is battered in a mixture of tapioca, eggs and chillies and deep fried to a golden brown before being smothered in a delicious sauce.
Your content goes here. Edit or remove this text inline or in the module Content settings. You can also style every aspect of this content in the module Design settings and even apply custom CSS to this text in the module Advanced settings.
Yellow Curry
This curry comes from the south of Thailand. At home, we call it "Red Yellow Curry" because we try to make it with Red Snapper, a wonderful local fish which is unfortunately rarely available.
Black Sesame Veggies
Green pepper, red peppers, onions, green beans and garlic make a delicious combination.
Sticky Rice and Mango
After a HOT Thai dinner, nothing beats a cool dish of Sticky Rice and Mango for dessert.
What our Fans Have to Say!
Natural Thai Curry Made from Scratch Class
Excellent teaching and great food — as usual!
Natural Thai Curry Made from Scratch Class
Thank you for adapting recipes to be vegetarian for me! LOVE the marinated tofu! I really enjoy sharing in the cooking with everyone, then sitting and dining and TALKING with everyone. What interesting conversations and people! I always look forward to these classes.
Oriental Beef Salad and Southern Chicken Curry
Such an amazingly fun and tasty evening! I can't wait to make some of these recipes at home. Thank you again.
Thai Classic Favourites
Fantastic! Not only did we get to eat a delicious meal, but we got "hands-on" experience. So we can do it at home — hopefully. Thank you so much. What a great day.
Thai Classic Favourites
What a great experience all around! Food was amazing, great hands-on learning. I can't wait to try the recipes at home. Thank you Kallayanee!!
Private Class: Eric Da Silva Birthday Party
We had such a great time! Thank you so much for a wonderful experience!
ONLY $68.25 PER PERSON, INCLUDING GST
Book Now
Places are going quickly
We do not yet have booking available online, so we shall contact you ASAP once we have received your message. We can then arrange for booking and payment details with you personally.